Thursday, September 25, 2008
The sending off
It is the funeral of
dai kau fu
today. The final good bye.
It was heart-rending to witness the despair of my auntie and cousins who had kept busy with rites and guests over the last few days, barely enough to keep the shock of loss at bay.
Auntie and other elders were not allowed to go to Mandai Crematorium for the final send off, and the desperate cry of Auntie to the departing hearse haunted all of us and brought fresh tears to our eyes.
My cousins were already biting their lips and finally the emotions got better of them when the coffin was being prepared for the cremation. It was the darkest moment as the coffin was being pushed into the literally glowing red furnace for the cremation; the realization that this, indeed, was the end.
2 grown men held on to each for support as they cried with great big sobs it hits them that there is no longer any possibilities for denials or illusions, that their dad is gone. Forever.
I tried to hold myself in silence as I teared and ached for their loss. But being there brought back long forgotten emotions of my own losses, and my fears as I look at my parents and thought about my own family and others that I hold dear.
I calculate the years that we have had together, and how many more to a theoretical end and shudder.
What will I do without any one of them? I can't bear the thought.
We, do, take so much for granted.
I'm going home to hold my kids extra hard and long tonight and tell them a thousand times more that I love them, and E when he returns tomorrow.
Hold your family close.
Labels: to Despair, to Love
Tuesday, September 23, 2008
Good Bye
My eldest uncle passed away in his sleep on Sunday morning.
He was (argh, the past tense there...) a kind and loving man who raised a closed knit family with 2 sons and 3 well behaved and sensible grandchildren. The bond between him and his wife will be one that I hope to emulate in my marriage in the years to come.
My kids became close to him when we traveled to Korea together last year and they call him dai kao kong (eldest grand uncle in cantonese).
I brought them to the wake to pay our respects and to say goodbye, explaining gently on the way there that dai kao kong had passed away and we are going to tell him goodbye, and we will miss him.
While there, the kids were at first insistent on being carried while we lit up the joss sticks and went to his coffin. He looked at peace and there were no marks from the fall he had taken 2 months ago.
"Say bye-bye to dai kao kong"
"Bye-Bye dai kao kong"
"Mommy, does this means dai kao kong die already?"
"Yes, that's why we are saying good bye to him"
"When is he going to rise again?" (the kids are in a kindergarden run by a church group)
"No, he is not going to rise again" dreading the question of when will they see him again, and NEVER is such harsh reality.
"So is he in heaven?"
"Yes, maybe, he is definitely not feeling any pain now ok?"
"ok"
We mingled with the rest of the mourners and extended our gestures of support to my cousins and aunty, who seem to be holding up well although i know that they had all broken down earlier in the day and were still in states of shock.
The kids warmed up slowly amidst in the strange surrounding and were plied with sweets, nuts and desert by relatives, and soon were curious of the rites and chanting going on.
They wanted to go and see dai kao kong again, and we did before we left the wake.
This time they waved good bye too.
I hope they will always remember playing in the snow with dai kao kong, eating roast sweet potatoes from roadside hawkers, and laughing so much that their belly ached.
Rest in Peace, Dai Kao Fu.
And may you keep my parents safe and healthy...
Labels: to Despair
Tuesday, September 02, 2008
New York, New York
(More revisions 24-9-08)
29-Aug-08 (Friday)
Met up with E and we drove (ok, HE drove while I gave food, drink and repeated GPS instructions) 299 miles from York, PA to New York City, NY.
We arrived just over 4hr 30min later. Checked in to hotel with little hassle and returned the car.
The first thing that struck us was strong stench of urine EVERYWHERE. I kept reminding E that there are a lot of homeless people and there arent many public toilets available to them, so just deal with it. He wasnt pacified and I could only tell him that Midtown is not representative of the whole NYC (keeping my fingers crossed).
It was almost 11pm on a Friday night and we were too tired to try anything fancy, and settled for a cafe across the hotel after walking several blocks for suitable dining (the only one we really liked, a Thai Restaurant was closed for last order).
Is this a sign for our stay in New York City, the fashion and beauty capital of the world? gulp*
30-Aug-08 (Sat)
We woke up early and started exploring, walking through Central Park to Metropolitan Museum of Art. The entry fee was on donation basis but we paid the recommended price of USD20 per pax. It was not as huge The Lourve, but the interior was build like a maze, designed to enhance the experience of the wondering and meandering goer. But we were there with a mission and limited time, and found ourselves lost more than once.
In the end we covered the Egyptian exhibition (a small consolation to sooth over my distraught for having missed that in The Lourve), Superheroes and Fashion, Arms and Armoury, and ... ... some other stuff. We also had brunch at the cafeteria at the basement level, and saved on tips since it was self-service. :p
Did you know that the bus stops and subway stations in NY was the MOST SUBTLE in such a huge city? There was almost no way to find a subway station unless you were almost right upon it, since they were underground (DUH) and the entrance were only marked with green globe lamp posts and signages below chest level. OR if you had a map and knew EXACTLY where to go (exactly being defined as knowing the intersection of both Street and Avenue).
We wondered around and couldnt find one and needed a break. Decided to walk back to the Museum and try a NY hotdog and it was there that we discovered the topping called Relish (kinda a chopped pickle dip), nice.
We sat at the steps munching dispiritedly while arguing if we should catch a cab. E was too hot to walk but I hazarded a guess that it might cost us US$30+ to get to Greenwich no way I was going to spend that kind of money to ride. I studied the maps that I brought and with luck there was a metro just to the edge of one of them! Annnnd we're off!
After fumbling slightly with the self service ticketing machine, we bought 2 tickets costing US$7 but loaded with 4 trips worth of value (all single trips within NY is US$2 each). We took a copy of the Metro map, and made our way to Greenwich Village.
Now, Greenwich Village is sorta district in NYC and also the site of an open campus of New York Univeristy, with no boundaries or gate saying it so, and we didnt knew that we were in it until we were studying the red brick buildings and tree lined streets. It was time for a break in Dean and Deluca where E pronounced the coffee to be more acceptable than the rest of American so-called-coffee he had been drinking.
We wondered around, stayed for a tap dance and band performance at a local park, looked at wares on display on street carts along the streets, and went to
Mary's Fish Camp
. OMG, it was before 6pm and there was already a queue of 30pax at the front door. The restaurant starts at 630pm. Thankfully, the seating started 15min into the wait, and we were the 3rd couple in line for the 2nd seating which may be in an hour's time.
So we took the chance to wonder around some more and checked out the stores, including staring at stuff on display in the window of an adult store. There were STUFF!!! But i was too shy to actually walk into one, not to mention BUYING something... :0 I did walk into stores for Juicy Coulture, Marc Jacab but didnt buy anything except small souvenirs for friends and family.
We went back to Mary's Fish Camp and nursed a beer while waiting for our seating. We studied the menu and apparently they are famous for the lobster knuckles and many people also ordered the Lobster roll (essentially lobster in a hotdog roll) with fries... HUH? sheesh... surely you can treat a lobster with more respect...?
At about 8pm we sat down at the counter (no choice available, you take the seat other people has vacanted or be moved down the queue) and ordered raw Malpeque oysters, grilled octopus, a grilled fish and a pan fried trout fillet, plus more beer and wine.
The oysters were fresh but small, I supposed those were local ones (or from nearby). But the octopus was OUT OF THE WORLD! Just the way I liked it in an ideal world, smoky, tender with a bite for chewing. YUM. And true love is when you've finished your share of the dish, your spouse offer you his last bite (without you having to demand/ blatantly hint so) since you enjoyed yours so much. :)
The fish werent spectacular since my Dad fishes, and I've had some really good stuff growing up. But the dish come together fabulously between side, source and fish (no fries anywhere, heh heh). YUM.
We were full and the night is still young by NYC standards, so we decided to drop by Times Square and soak in the atmosphere. The first thing that hits you is the BILLBOARDS, the LIGHTS and then it really hits you (if you are standing still) THE CROWDS!!!
Dropped by Hard Rock Cafe and some stores, but it was overwhelming, to seem to be fighting the stream of crowds coming through from everywhichway. It was time for some snooze in the city that never sleeps.
31-Aug-08 (Sun)
We started with a breakfast near our hotel and took the subway to WhiteHall Ferry Terminal, arriving there before 10am to take the ferry to Staten Island and gaze upon the Statue of Liberty from the ferry, like 95% of the other people in the terminal that day.
Some might feel great emotions upon seeing the Statue, seeing that she is the embodiment of the American dream and promise. Being a Singapore product, I had none of those feelings . But I imagine the millions who traveled long dark weary distance by ship (in those days), and how they may have felt seeing the light (literally a torch) at the end of the tunnel renewing their hopes of a better future for themselves and their family who may follow.
So it was a quick turnaround on Staten Island terminal and back to New York Island.
We walked towards Wall Street and saw the big flag that graced the front of NYSE (knowing little of the turmoil that will befall it with the collaspe of the oldest bank in mere weeks) and other landmarks.
Then E being a great fan of stories and documentaries on the 911, we went to the Tribute Center. It was a small intimate exhibition hall with various parts: the Community (a video presentation), the Passage Through Time (picture time line and artefacts display), Rescue and Recovery (a wall of MISSING PERSON posters, and this was where it hit me hardest. The despair of the family looking for their loved ones, father/ mother/ son/ daughter drove straight into my heart, and i teared many times and could not linger), and Tribute (Photo wall of the victims), and the rebuilding.
E told me that the first time he was there, there were only pictures on the fence surrounding Ground Zero giving the timeline of the day the Twin Towers fell, and the starkness of that display moved him greatly, whilst the Tribute Center seem to him sanitized. I explained to him that the objective of the Tribute Center was above moving on, and helping the people affected to come to closure and have hope again, which in a way was healthier and forward looking. Though I had hope that there would have been more of a coming together of EVERYBODY (instead of just the Americans, whilst the most affected, there were many other nationalities who had suffered together on that fateful day) to condemn the act of violence, be enlighten and vow that they will fight terrorism together.
We walked over to Ground Zero and looked at the construction of the memorial and the new building.
Then wondered along to Century21, which I can only describe as a Mega-Pieces (a shopping outlet of factory overruns in Singapore's Chinatown). There were literally thousands of merchandise, and we were immobilised by the choices. I wanted to get a pair of sun glasses but beat a hasty retreat when confronted by no less than 20 turning shelves crammed with with them. We looked at working shirts for E, but again overwhelming choices paralyzed us and we didnt get anything.
Thirsty and hungry and beaten, we trout out of the mammonth store and headed straight to the first fastfood outlet we saw, Burger Kings. I am ashamed to say we succumbed.
We had enough of downtown New York and wanted to head back to the hotel, but alas! We missed the subway station that we were looking for, and some other stations weren't open on a public holiday. In the end, we took another break at another Dean and Deluca in Borders and went back to the metro at Whitehall terminal.
After refreshing ourselves at the hotel and dressed smartly in casual evening wear, we were ready for one of the highlights of our trip. A broadway show!!!
But we were still very early so we strolled along 5th Avenue, but not into any shops. There was a huge Brazil Day party on 6th Ave/46th Street and we had to detour a long way before getting to Golden Theatre for
Avenue Q
. By the time we got into the line to get into the theatre, we were hot and thirsty. E was in a souring mood and felt that we were overdressed seeing that there were people who came in polo-shirts and bermudas. Had to calm him down by pointing that there were many well dressed people, and those who were dressed down were not aware of the etiquette.
Thankfully, Ave Q (many thanks to Ting who recommended the show!), a multiple-media musical with actors and muppets soon took our breathes away and had us laughing out loud at its politically incorrect insights to human and monster nature. By the time we left I had a small crush on the lead actor Howie Michael Smith who played Princeton and Rod. (It will be
coming to Singapore
and
you MUST watch it
!)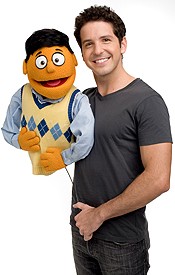 We were immensely satisfied with the show, and wondered around Broadway looking at the theatres and billboards showing MamaMia, Phantom of the Opera, Lion King etc etc, but I was soon tired and hungry, and I wanted to have authenic piece of NY pizza before we left, and we chanced upon World-Famous Original Ray's Pizza, and had 3 slices between the 2 of us. YUM.
We walked back to the hotel to rest, and the crowds didnt look like they needed any.
1-Sept-08 (Mon)
Labour Day Holiday!
We woke up early, changed into our jogging gear and started a slow jog to Central Park with silly grins on our faces, feeling very much like (fake) New Yorkers. Heh.
Starting from Artists' Gate, E was roaring to go as he had missed his work outs over the last 2-3 weeks from work. But unfit as I was, he had to shuffle at my speed which he declared to be a stroll. pout*
But Central Park was glorious in the early morning, there was smell of green and earth, and lots of people running, cycling and roller-blading. There were also horse carriage rides available at US$30 but it would have been ridiculous riding one in our jogging gear.
I was hoping to come across the Alice in Wonderland Sculpture but instead we came upon the Strawberry Fields (a tribute to John Lennon), Belverdere Castle, Delacorte Theatre, Heckscher's Ballfield and Playground, The Mall, some memorial to the soldiers who had fallen in the World War 1, the Childrens zoo and benches with names of people who had donated money to restore the park. I thought about how wonderful it would have been to have a bench to claim as our own for when we visit in our old age or our children...
About 1.5 hours and about 6-8km later, the sun was coming up we had enough of the meandering park, had breakfast and checked out of the hotel.
(i know what some of my friends would think, you spent your New York holiday jogging in a park instead of cramming 5th Ave and Madison Ave and more shopping? AND you didnt even go to Woodsburry, the mecca of shopping ? uhmm, in my defense, the shops dont open that early i think, and Woodsburry was too far, really.)
Good Bye New York, it was fun while it lasted. ;)
Another long 264mile drive to Maryland.