Wednesday, October 25, 2006
Think Happy Thoughts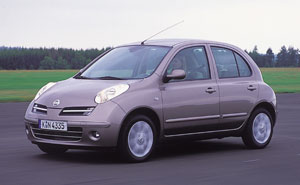 I will be flying back to meet my new marchie...
gosh... i feel so adult. my very own car. mine. all mine.
Labels: to Drive
Bangkok 30~31 Oct 06
3rd trip out this month.
tired tired tired.
even had to work on Mon 23-10, a rare company declared holiday
pout pout pout
permanent dark eye rings
...................................................
at least i managed to beg to fly out first thing 30-Oct instead of 29-Oct Sun night after the 10km race. And hopefully we finish all outstanding matters on schedule for me to catch the return flight on 31-Oct instead of 1st-Nov.
Labels: to Travel
Ho Chi Minh 26 ~ 27 Oct 2006
Another trip to HCM...
hope i'll survive well enough to run the GE women 10k on Sun morning.
Labels: to Travel
Friday, October 20, 2006
freaked
not a soul in miles around.
just shadows amidst the haze
i'm freaked.
and the 2nd last person who left the office didnt even have the courtesy to close the gates behind him/ her.
called E twice.
he's coming to get me.
i dont mind the hour's wait, i'd rather be safe.
Labels: to Despair
unsafe
i thought i heard a scream. was that a girl or a machine or a tyre?
i dunno... i cant tell, there's nothing to see out there
it is really late. the last working day of a 4 days long weekend.
gonna be lugging files home. too much work to do.
gonna call a cab.
i hope it wasnt a girl.
Labels: to Despair
Thursday, October 19, 2006
Living on zzz Credit
Do you know the stress of living paycheck to paycheck? living on credit? rolled over credit? spending the money that you dont have now but hope to earn sometime later?
maybe you do, maybe you can guess...
what about the stress of living from SLEEP and REST credit?
working the hours now that you hope to rest sometime later?
does it work the same?
is there a credit transfer that i can use? at lower interest rate?
Labels: to Despair, to Read Think
Marchie!
okies, the deal has been confirmed, c/w Sherry Silver
1. solar film,
2. reverse sensor
3. full tank petrol
4. custom floor mats
i'm happy.
Even happier that I've confirmation that the COE bid of 18-Oct-06 is successful and registration in 1 week and collection in 2.5 weeks.
i can't believe it.
my own car.
mine.
Labels: to Drive
Test Drive - Subaru R1/ R2, Getz 1.6, Nissan March
Test Drove a few cars over the last few weekends.
Subaru R1
, a 3 door hatch-back, and
R2
, a 5-door hatch-back, both 658cc cars. The
R2
first, because it had 5 doors, but i couldnt get away from the cheapness of the bare metal of the brake handle; even though the rest of the car is reasonably well constructed, but let there be no illusion of space in this car. While the car handled well, the body roll was too obvious for my liking.
We were persuaded to try the
自私车 R1
, and it was an improvement from the sporty 2-tone interiors and plusher interiors which were mostly Japan-fitted, including the FM stereo which required a local adaptor to receive local FM signals, resulting in a $2k price increment over the R2. The handling was much better, perhaps due to the lower CG and exterior styling, there was much less body roll. E was quite taken with the car and would have agreed on it. I didnt mind it cos it gave me a fleeting glimpse of me as girl racer in the 3 door coupe-wannabe. :D
Tried out the
Hyundai Getz
, and was surprised that only the
1.6l motor
had ABS, no airbags, and the lower 1.4l and 1.1l neither, not even as options. The Getz was alright, but it was oh-so-common on the road already, and it really didnt make sense to buy the 1.6l version cos it was neither cost-effective nor had the neccessary features. The other thing that caught my eye was the FUGLY fabric seats, which MUST be changed to leather, necessitating another increase in price...
The
Nissan March
caught my eye, the styling just about approximate to what i had liked in a mazda 121 or 232 in my uni days. The price was just a few k more than the smaller Subaru R1 and Mitsubishi i, and had way more features than the Getz. Unfortunately, it was the most expensive of all the cars that i had seen.
Didnt want to rush into any decisions and decided till the prices for the COE bid of 4-Oct-06 is available.
and it turned out that
- Subaru R1/ R2 went
UP
by $1k each to $44k/ $42k
- Mitsubishi i
no change
at $46k
- Hyundai Getz .... i cant remember since i had ruled it out early
- Nissan March came
DOWN
by $2 to $47k
i think the choice is clear, just have to go get the best deal.
Labels: to Drive
Ho Chi Minh 12~14 Oct 06 Part 2
well, we did have dinner at a local place, but not an exotic unpolitically correct dinner, just a nice local meal in a local restuarant.
the food is as i understand vietnamnese food to be, clean taste, mint leaves, chili, lime, garlic, beef, fish, rice paper, dips. good stuff.
unfortunately the party was marred by too much drinking, bolstered by the very good merlot, without a doubt, but the locals were not ready for the likes like us, not even our local host. Had to apologise several times to some and "tong" drinks for some... typical...
anyways, some rambling observations on HCM:
- girls tend to have long hair, and wear simply, mostly a short-sleeve top with pants, and long sleeved gloves, cloth mask and hats, sun glasses even. but the features are not refined, and together with their darker skin makes them look older than they most probably are, and a air of countryness
- the locals speak english, of a much better standard then even the Thais.
- the economy is booming. you can feel it in the endless constructions, the fashion trends in the city, and just a sense of expectations in the people. The place will move, and will move fast. Be there now, or be there too late.
- crossing the left-hand drive roads take nerves of steel, and a sense of trusting-to-fate. There are little traffic lights, and it is a dance between all road users. You take a breathe and start to cross slowly, trusting that the motorbikes will swerve around you. But the main rule is: always let the cars go first.
- Disco come with hostesses, who dont dance. weird.
Gonna be there again next week. sigh~
Labels: to Travel
SPUG down AGAIN!
Gosh, SPUG's server is down.
i first read it from fish's post in
WTT
but i had to get official confirmation and it was confirmed in
Jeff's Blog : SPUG
....
and it looks like it may be down for awhile yet.
ARGHHH... the withdrawal symtons are already starting.
look on the bright side:
- i can blog more
-
SgRunners forum
is up
- ...........
- ........... , i think thats about all the bright side i can muster up at this point...
Labels: to Despair
Monday, October 16, 2006
Good Grief~
just when i'm finding my feet again with work, having cleared some of the biggest projects and worst nightmares, i received news that a colleague will be on hospitalisation leave for problematic pregnancy till end of first trimester, which means what? end of the year???
that means i have to do all her tedious time-consuming mostly low to mid level work and dealing with issues that my boss is prone to change his mind at least 10 times for every decision.
that means endless nights and OT in the office.
oh Good Lord. no.....
GOOD GRIEF....
ARRRRGHHHHHH!!!!!!!!
Labels: to Despair
Friday, October 13, 2006
Ho Chi Minh 12 ~ 14 Oct 06 Part 1
Wow. Communist Country! That was my first thought as i met
unsmiling airport officers dressed in green cadet uniform
armed with riot batons and wearing stiff black peaked hats. The airport was a little sparse, but well maintained and orderly. There were even commercial light boxes showing Korean star RAIN hawking various stuff. :)
To my surprise, there were no distinction between locals and foreigners for custom clearance. All were equal and all took equally long, with random pp being made to show more documentations like a return air-ticket or hotel reservation. I had no trouble with mine though, probably helped by my pleasant nod to the officer while handing over my passport without the passport cover.
I had no time to change currencies (either Dong or US$ are fine in Vietnam) before catching the flight, and borrowed some from my boss. He passed me 10 notes of 100,000 Dong.
A MILLION Dong
! be still my heart, thats just S$96.50... LOL
We booked an airport taxi to our hotel and it cost only US$6. And we drove straight into the motorcycle capital of the world. Motorbikes must out-number cars/bus at least 100 to 1!
bikes, bikes, bikes and more bikes
There didnt seem to be any rigid traffic rules, and there were even less traffic lights which were only for VERY MAJOR JUNCTIONS. Cars are ready to park by the road almost anywhere, and if that causes an obstruction, feel free to ride half way onto the walkway till you clear the obstruction! Lane markings and junctions are only approximate guides, feel free to turn left/ right/ ride in between lanes! Sit as money to a motorbike as the bum space allows! Beep-beep-BEEEEEP horns galore which i think are just as common place as shouts of "hot water" in a crowded cantonese tea house. It is like a very graceful dance performed mostly good-naturedly between drivers, motorists and pedastrains. Totally bewildering to foreigners.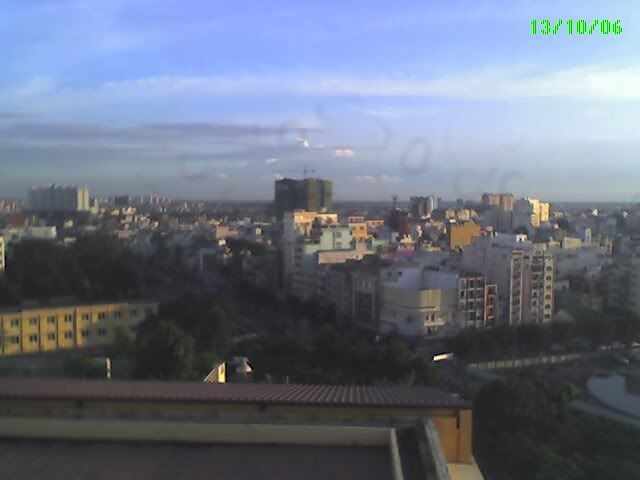 high above the city
We arrived at the
New World Hotel Saigon
safely 30min later, one of the newest an certainly one of the tallest building in this little capital where most buildings go up to 6 and only some up to 9 storeys.
We were booked happily into the executive floor as the hotel is quite full with an oil & gas exhibition in town. The room and executive lounge and facilities were comparable to any good 5-star hotels anywhere in the world. Free wifi access in executive lounge even!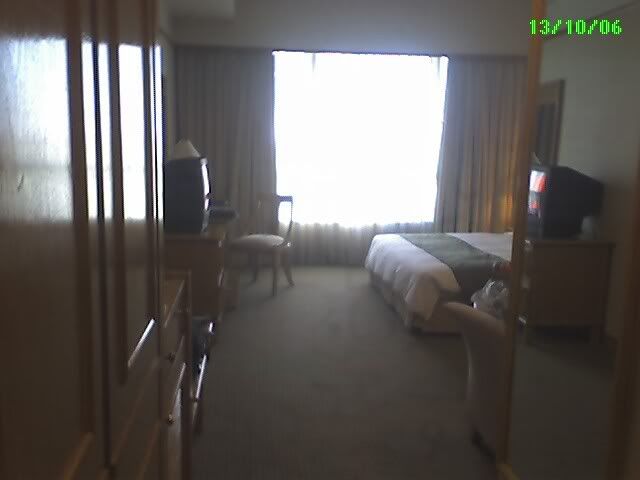 nice spacious room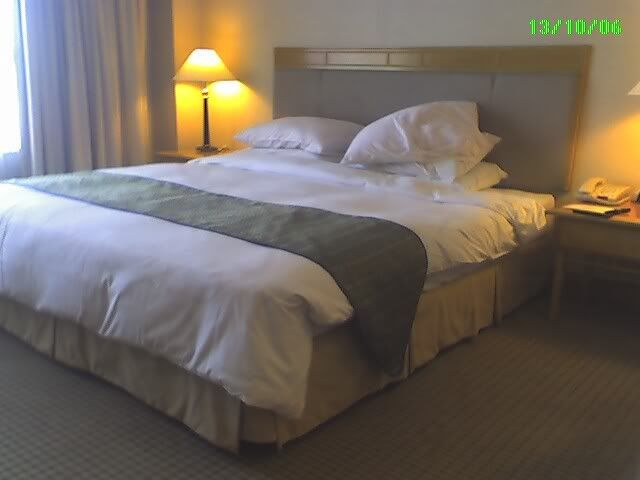 5! FIVE! 5 fluffy pillows on silken sheets on a KING size bed!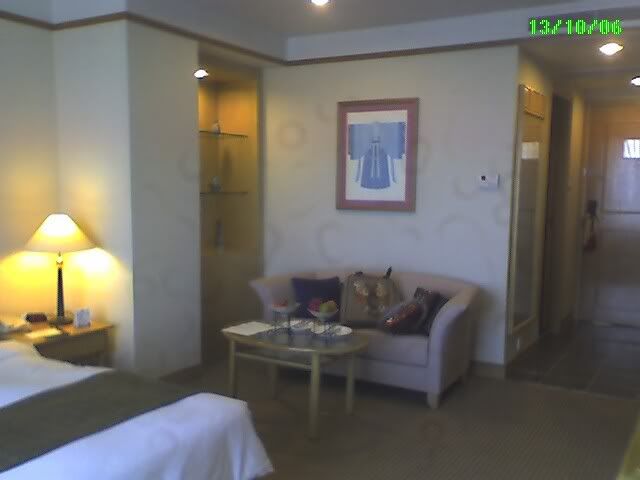 2 fruit dishes
TV with lots of channels, broadband service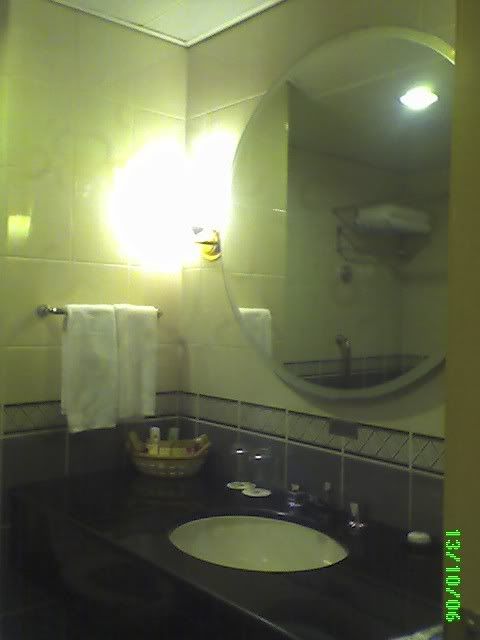 nice spacious toilet with bathtub
Managed to snatch 2 hours away from work to go shopping and run an errand.
Unfortunately the shopping got off to
2 unhappy incidents
.
At the market near the hotel, vendors hold on to your arm to persuade you to look at their wares, and that made me very uncomfortable.
We escaped quickly and took a cab to a shopping district a few minutes away, after confirming that we pay by the meter. But the meter read 299,000 Dong! thats almost S$28 when a 30min trip from the airport was only US$6! We asked the cabbie to wait and went to ask for help from the shop where we were going to. The cabbie quietly reset the meter while 2 sales staff + a security guard came to help, and managed to cut the fare to 99,000 Dong. We paid unhappily.
We put the incidents behind us and got to shopping at the little shops (they were 90% little shops with each in 1 store front). and happily we chanced into a antique shop selling stuff at less than 20% of Sg prices. I sorta regretted splurging on the U$78 ipanima bag last night... Total damage 2 linen shirts at US$70 and 7 silk embroidried jewelry purse + 1 necklace + 3 beaded silk evening bags US$40.50
shopping quickly done and we had by chanced hopped into a touriest saigon taxi which cost us only 15,000 dong to get back to the hotel.... sigh~ lesson learnt.
We had a boring chinese dinner last night. We are supposed to eat "local" tonight, i wonder if cobra and other wild things are on the menu?
Labels: to Travel
Thursday, October 12, 2006
Ho Chi Minh 12~14 Oct 06
The long overdue and many times resheduled trip is finally on.
My first trip to Vietnam.
Still a little under the weather but hopefully a couple shots of "Vietnam Sake" will cure me...
Labels: to Travel
Wednesday, October 11, 2006
Long Break .... NOT!
That was 2 weeks of no blogging... not a break, just hellish work (thank goodness the biggest events and projects are OVER), rounds of test driving and trying to recover from a vicious bout of cough + cold.
For those of you who had been checking, much
THANKS.
i promise to update quickly...