Friday, October 13, 2006
Ho Chi Minh 12 ~ 14 Oct 06 Part 1
Wow. Communist Country! That was my first thought as i met
unsmiling airport officers dressed in green cadet uniform
armed with riot batons and wearing stiff black peaked hats. The airport was a little sparse, but well maintained and orderly. There were even commercial light boxes showing Korean star RAIN hawking various stuff. :)
To my surprise, there were no distinction between locals and foreigners for custom clearance. All were equal and all took equally long, with random pp being made to show more documentations like a return air-ticket or hotel reservation. I had no trouble with mine though, probably helped by my pleasant nod to the officer while handing over my passport without the passport cover.
I had no time to change currencies (either Dong or US$ are fine in Vietnam) before catching the flight, and borrowed some from my boss. He passed me 10 notes of 100,000 Dong.
A MILLION Dong
! be still my heart, thats just S$96.50... LOL
We booked an airport taxi to our hotel and it cost only US$6. And we drove straight into the motorcycle capital of the world. Motorbikes must out-number cars/bus at least 100 to 1!
bikes, bikes, bikes and more bikes
There didnt seem to be any rigid traffic rules, and there were even less traffic lights which were only for VERY MAJOR JUNCTIONS. Cars are ready to park by the road almost anywhere, and if that causes an obstruction, feel free to ride half way onto the walkway till you clear the obstruction! Lane markings and junctions are only approximate guides, feel free to turn left/ right/ ride in between lanes! Sit as money to a motorbike as the bum space allows! Beep-beep-BEEEEEP horns galore which i think are just as common place as shouts of "hot water" in a crowded cantonese tea house. It is like a very graceful dance performed mostly good-naturedly between drivers, motorists and pedastrains. Totally bewildering to foreigners.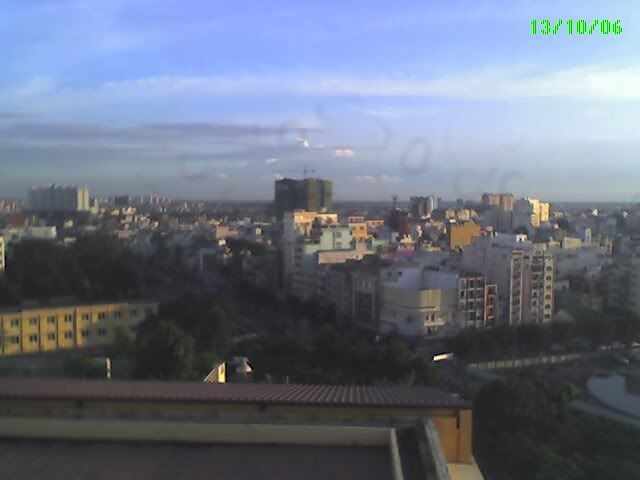 high above the city
We arrived at the
New World Hotel Saigon
safely 30min later, one of the newest an certainly one of the tallest building in this little capital where most buildings go up to 6 and only some up to 9 storeys.
We were booked happily into the executive floor as the hotel is quite full with an oil & gas exhibition in town. The room and executive lounge and facilities were comparable to any good 5-star hotels anywhere in the world. Free wifi access in executive lounge even!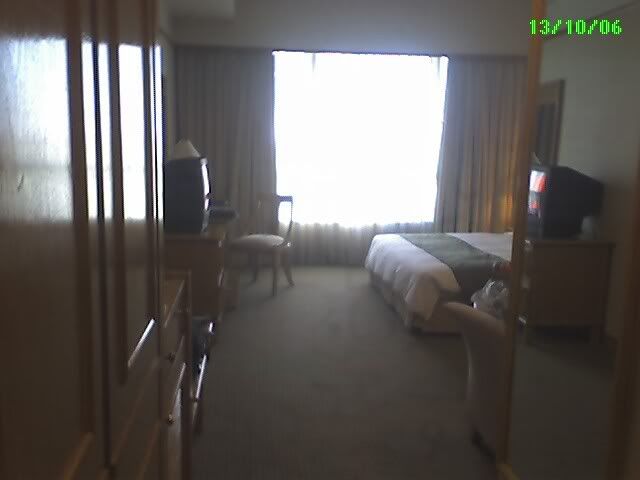 nice spacious room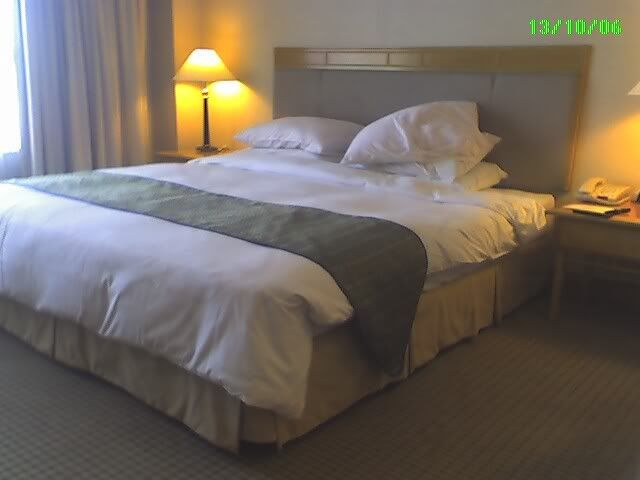 5! FIVE! 5 fluffy pillows on silken sheets on a KING size bed!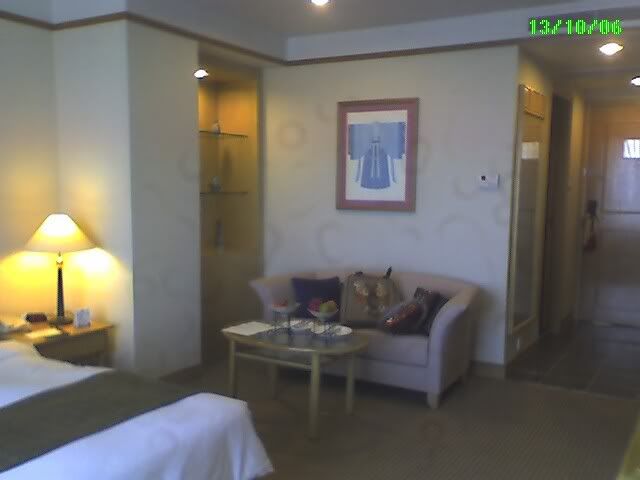 2 fruit dishes
TV with lots of channels, broadband service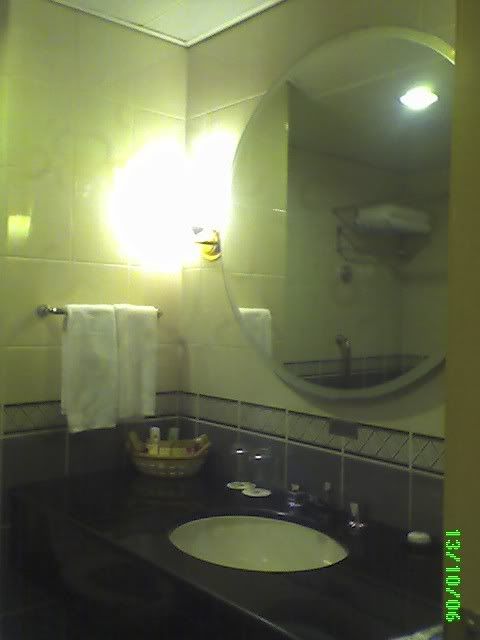 nice spacious toilet with bathtub
Managed to snatch 2 hours away from work to go shopping and run an errand.
Unfortunately the shopping got off to
2 unhappy incidents
.
At the market near the hotel, vendors hold on to your arm to persuade you to look at their wares, and that made me very uncomfortable.
We escaped quickly and took a cab to a shopping district a few minutes away, after confirming that we pay by the meter. But the meter read 299,000 Dong! thats almost S$28 when a 30min trip from the airport was only US$6! We asked the cabbie to wait and went to ask for help from the shop where we were going to. The cabbie quietly reset the meter while 2 sales staff + a security guard came to help, and managed to cut the fare to 99,000 Dong. We paid unhappily.
We put the incidents behind us and got to shopping at the little shops (they were 90% little shops with each in 1 store front). and happily we chanced into a antique shop selling stuff at less than 20% of Sg prices. I sorta regretted splurging on the U$78 ipanima bag last night... Total damage 2 linen shirts at US$70 and 7 silk embroidried jewelry purse + 1 necklace + 3 beaded silk evening bags US$40.50
shopping quickly done and we had by chanced hopped into a touriest saigon taxi which cost us only 15,000 dong to get back to the hotel.... sigh~ lesson learnt.
We had a boring chinese dinner last night. We are supposed to eat "local" tonight, i wonder if cobra and other wild things are on the menu?
Labels: to Travel