Thursday, August 24, 2006
Suvarnabhumi Airport, Bangkok, Thailand

Suvarnabhumi Airport (pronounced as Su-Va-Nak-Phom to my untrained ears) will replace the old and overloaded Don Muang Bangkok International Airport on 28th September 2006 for both international and domestic flights.
control tower
It is touted as the largest single-terminal airport, has the largest carpark, tallest control tower etc.

Managed a sneak peak on 17-8 in relation to work with a tour led by 2 senior airport authority officiers.
outside view of airport
inside view of airport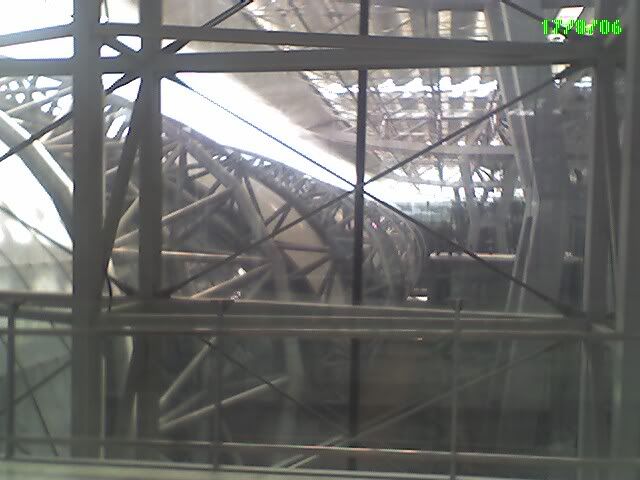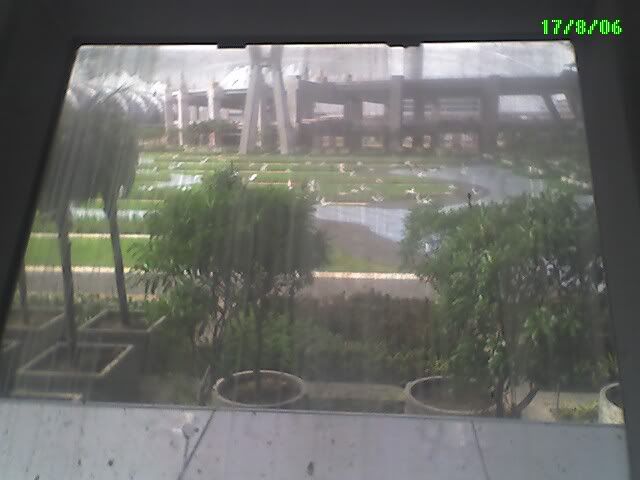 view from inside of airport at gardens outside/ fake birds!
It has interested architecture - a H-shaped Terminal, Petals like external walls, glass and steel works, gardens outside (out of bounds)
There are great sign boards, clearly labelled and brightly lit, placed every where at every strategic junction where you need to make a decision to turn left, right, up or down.

tiny 6-seater smoking rooms, smoking chambers more like, dont you think?
Where ever you need to go, the arrival halls, departure halls, immigration, belts, boarding gates, shops, restuarants, toilets, smoking rooms, airport lounges, even to the prayer rooms! Unlike those obscure little ones with vague arrows in the airport immediately up north of ours.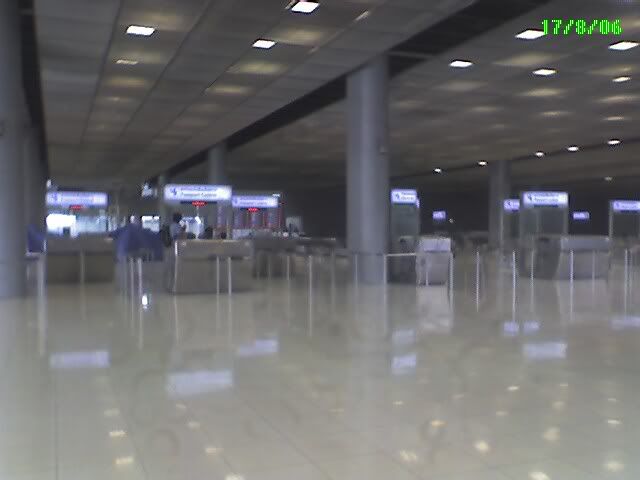 Arrival Hall/ Immigration Computers



Luggage Belts/ Carousels

Arrival Hall is much bigger and longer than the Don Muang Airport, hopefully with much better pp traffic control too.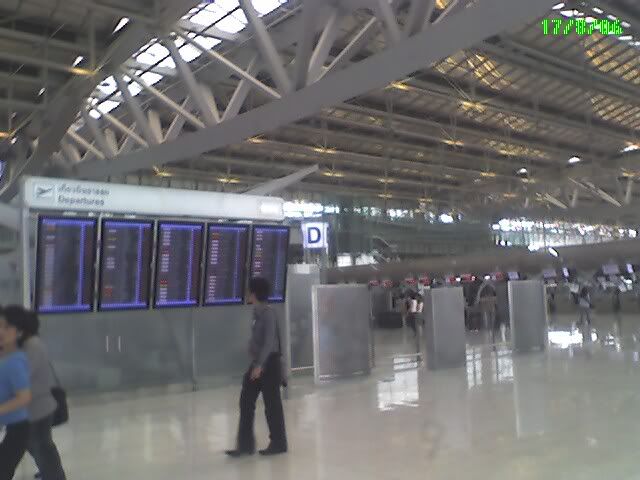 Departure Hall/ Flight Schedule Board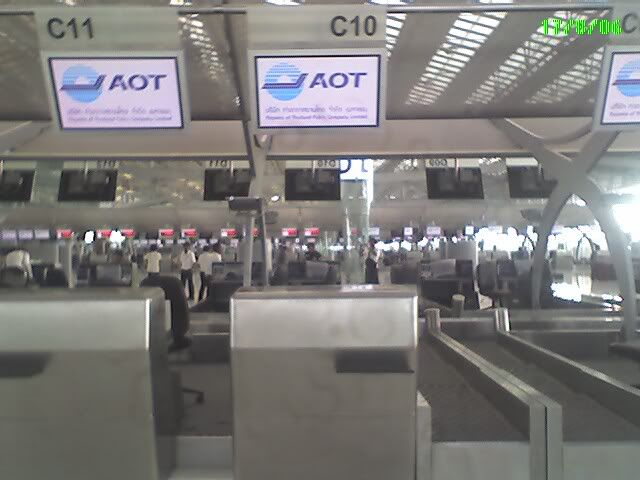 Check-In Counters



Towards Departure Immigration



Boarding Gate

Departure Hall is brightly lit and has a cheerfulness to it. Workers were doing trial run of luggage handling, printing boarding pass, making announcements and what-nots on the day we were there. Strangely there werent any of the tension that one might expect from such an exercise, seeing that they were just about a month away from the official opening.


Especially when there is still so much construction left to do...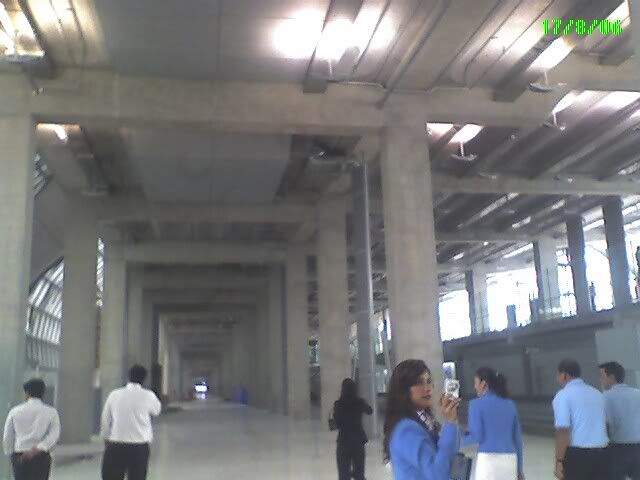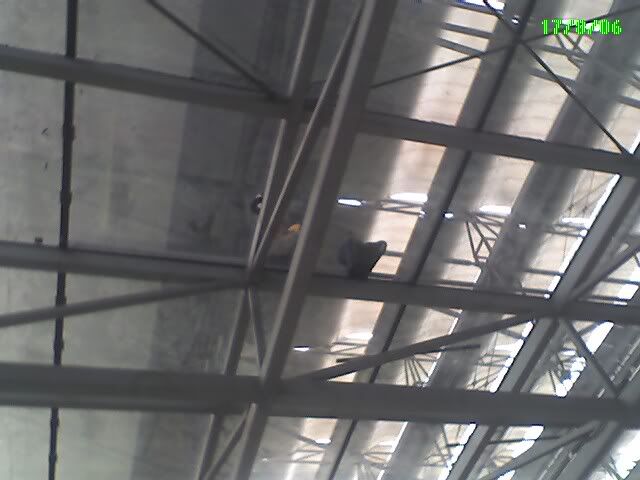 in the hall/ on the ceiling/ on the roof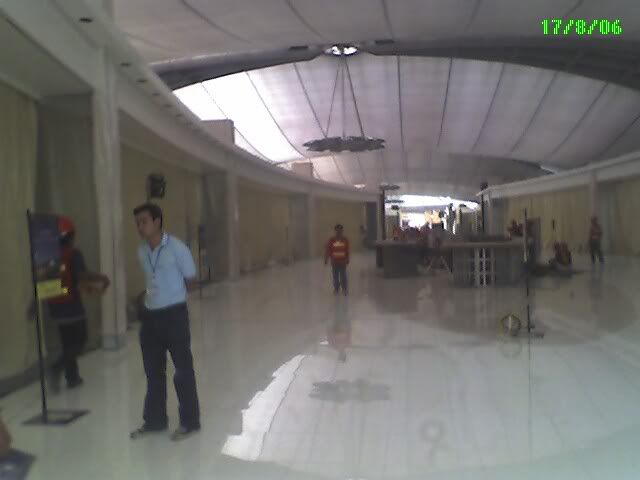 in the duty-free shopping area/ in the shops/ outside the shops
The place was still very unfinished in many areas, lots of construction going on, unconcealed ceiling, exposed wire works, decorations, carpetting etc. To my unlearned eye, it seems that there were easily another 20% ~ 30% to go before the airport finish. There were lots of workers milling about, but none looked like they were in any real hurry, often stopping and resting. I guess this is the sahbai (Thai for relax, dont worry) spirit at work. The airport had already postponed its opening from end 2005 to June 2006 and now end September 2006, and I wonder if they can make it this time.

main sculpture in Duty-Free Shopping Zone/ Description/ Map

Good thing they did get some of the major art installations in, such as this sculpture depicting the "Scene of the Churning of the Milk Ocean". Unfortunately despite of the english translation of the meaning of the scene, I'm not the wiser as to its meaning or its significance.

The airport is HUGE, and luckily where there are heavy traffic to far flung destinations within the airport, there are long travellators. Unfortunately, they werent working yet the day we were there.
What would i give to rest my feet in an overstuffed sofa and a beer. But these uncomfortable bare metal chairs were all we got.
The tour took 1hr 30min, and i estimated we covered at least 2.5-3km
gosh, i need a drink, but no... i had a plane to catch and it was straight from the new BKK airport to the old BKK airport and to Changi airport.
Labels: to Travel