Friday, April 07, 2006
Shanghai 24-28 Mar 06
(sneak peek, Work in Progress - Revised 20-4-06 ENTERTAINMENT onwards)
1 day at work and off to Shanghai!
Anticipating that it will be cool weather, i borrowed a cool beige trechcoat thingie from Leng. It was supposed to be for above 10 deg C. but weather there was supposed to be between 6 ~ 16 deg C. errmmm... wear more layers?
The trip out.
Yewch. no movie on demand on the SQ flight i took. the movie was already into 20mins when i settled down. watched "Aeon Flex" anyways and took a nap.
TRANSPORTATION
Shanghai Airport
Shanghai airport was huge, and more modern than i expected, but then again, this IS Shanghai, not some back water like like like, are there anymore backwaters in China ;)
Clearing customs took almost a full hour, in stuffy heat.
3 forms to fill. Customs, embarkment and a health declaration form. Fill them all (both sides) on the plane so that you wont be delayed.
i took mistakenly that the weather was turning warm until i stepped out for a cab (after avoiding the taxi touts).
Taxi
Taxi's are called taxi in english, but 自租车 "zhi-zhu-che" as in "self-rented vehicle" in chinese. Meter starts at RMB10. The locals call taking a cab "打的" (pronounced as "Da-Di"). Ask for a receipt, and it will state the company, taxi number, date, start/end time, km travelled. And if the driver doesnt give you a receipt, you are entitled to NOT pay a single cent, AND then you can call the taxi company to complain, ensuring that he will get a fine and even dismissal.
i look into the cab in the queue to confirm that there is a real working meter before allowing my luggage to be loaded in the boot. The driver threw away what was left of his cig before driving off. AND CULTURE SHOCK. there is absolutely no rule on the road! it was a case of
1. any police?
2. who's bigger
3. who's faster
4. who's got the bigger balls.
not to mention the liberal use of the horn. Borrr-BORRR-BORRR! to warn cars ahead that you are charging up and not to change lane, to make slower cars give way, to warn the next car not to think about changing lane before you are through.
AND the spitting out of the window.
Traffic
Traffic is chaotic. firstly, they are left-hand drive. on every road, they have bicycle/ motorcycle lanes running parellel along the road, whether the road for car is a uni or bi-directional. So if you cross the road on a uni-direction road, look both sides just the same cos you may still be knocked down by an motorcycle going the "wrong" from the cars. And they have absolutely no regards for the traffic rules, unless they are trying to CROSS the road, and in which case, they will rush ahead before the light turns against their favor, whether cars or 2-wheelers. PLUS they have unspoken turn left/ right on red on every single corner. Pedestrians, you have been warned.
HOTEL ACCOMODATIONS
Stayed at
New World May Fair Hotel
上海巴黎
for the first nite at S$255...
Very nice hotel owned by HongKonger. Very new at only about 2 years, and contemporary decor if you like ostensious wood and white and gold. CableTV in the room too ;).
Generally good fawning service from all. but for that price, they'd better be. even a cup of coffee costs RMB48++, where in the street, a local Budweiser only costs RMB10, a decent noodle RMB6, and a bun only RMB0.60. There are lots of shops around the hotel, good shopping and food, whether in proper shops or just muchines. There is a chain of dumpling shops called 大娘 "Da-niang" as in Big-Mum's. good stuff at cheap price but no tea. A Big Mac meal is RMB10 (we popped by to take a look but didnt try)
We went to
Astor House (Pujiang Hotel) 埔江饭店
the next day at S$133 nett for a superior room.
It was a little creepy due to its long history, since 1846 but rebuilt in 1857, with lots of famous pp like Einstein, Bertrand Russel, American President Grant and Charlie Chaplin having stayed there. The place was high archs, dark wood, dark creaky floor boards, high ceiling, old style picture windows. Our room had a locked door that led to dunno where next to the bed, and i absolutely refused to sleep on THAT side of the bed.
Location-wise, it was GREAT, less than RMB12 to the finanical district or Beijing Road areas, and walking distance to the Bund, and only about 10~15min walk to Beijing Road (Peace Hotel). otherwise immediately around the hotel has little to offer as it seems to be smack in where pp live and worked (and not play)
ATTRACTIONS
Itininery-wise, we went to a few places while there (not in order):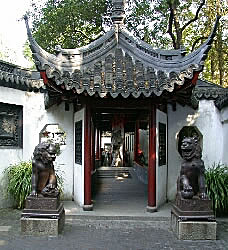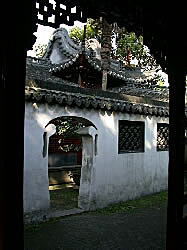 YU YUAN
豫院

Historical garden of a resort garden built by an Emperor aka 400 years ago. It was chaotic getting there, it is not remote or that it was inaccessible, but that it was so so so commercialied all around it, and the area was built up to such an extent that you need to pass through a mass of businesses (they actually call it the YuYuan Bazaar..), shops, foodstalls, shopping kioks before you can even get to the front gate (to buy RMB30 tickets).
But once in the Garden, it was huge, and with beautiful architecture featuring bridges, false mountains, nooks and cannies, studies, halls, hallways, stone walks, some parts of the Garden had original carvings, statues, decorations, furnitures. The effect was at once majestic and breathtaking. Just think! The pp from 400 years ago were able to conceptualise such elegant living, beautiful homes and surroundings. Such imagination, vision and wealth! The most amazing thing for me, personally, was being able to finally understand the scale of architecture and style of living as described in the Dreams of Red Mansion. love it love it love it.
YuYuan Bazaar
Unfortunately reality set it when we stepped out of the Garden, a little reluctantly as it was getting dark and about closing time. There we stepped amidst thousands of pp all shouting, shoving, pushing, spitting and general mayhem.
"Queueing = shoving and pushing". We tried to get some muchies, and the pp were crowded 3 men deep at every kioks with no queue system. Every man for himself, and each surges forward to take the place of the man who had paid and received his goodies, preferrably by elbowing the next man out of your way. E was stuck for a good few minutes trying to get a toehold in.
The next culture shock was the prevalence of pp spitting out phelgm every which way. "AAAHHHEEEM... PHEW!" left right and center without as much as a glance to see that they dont spit onto someone's shoes. It was not just the old men and women, but the man in suit, the lady in high heels and mini-skirt. Even when they were eating roasted pigeons, "bite-chew-bone-spit". Left over cup, spoon, stick from the muchines, dropped it on the floor and walk away. It took a whole army of cleaners who constantly sweep at pp's feet to keep the area reasonably clean of debris. Imagine the army that sweeps your HDB block in the morning is here working 16 hours a day and each person in charged of just the area in front of your mail box....
This, from the supposedly most commercialised (and therefore modern) city of Shanghai. I wonder, do they spit at home too, and expect whom to clean up after them?
Shanghai Museum
上海博物院

Several of the exhibition halls were not open, but we chanced upon a Bonus of a small seasonal exhibit on Jing-Gong (Qing's Dynasty Palace Artifacts) , that and the array of furniture, porcelin, silk road, costumes, weapons, jade, paintings and calligraphy etc took our breaths away. Especially when you look at things that were made 2000 AD, and you cant help but exclaim "zhong guo ren, zeng xin!" or "fellow china men, well done!" Pity we had only 1.5 half before the museum closed.
I bot a small souvenir of a zhang bangqiao painting of bamboos, it was RMB150, and a reproduction, but i wanted it, and was happy to get it.
The Bund
外滩

You are basically walking along the Pu Jiang river, and one side (across the highway), the old financial hub of China, with all the old architectures dressed up in lights. imagine 20 buildings of our Fullerton style in various sizes and heights in a row at night. And on the other side (across the river) the Oriental Pearl TV Tower and the dazzling neons, and cruise ships.
We decided not to take any of the cruises and instead took a Ferry (used by locals) across Pu Jiang - only RMB2 per way. Buy a token at a booth near the station, and insert to turnstil and hop on. It was over in less than 7-8 mins to get across. And on the Pudong size, there was nothing except a convenience store and a bus depot. We had wanted to go near to the area where al fresco dining and drinking were, but there were no cabs in sight. so we hastily beat a retreat to PuXi on the return ferry, at another RMB2 each.
Shanghai Book City
上海书
城
Fu Zhou Lu - Book Street! My kind of heaven, a whole street of book shops, all varieties and sizes and prices.
We only had time to go to one, and we went to the largest Shanghai ShuChen (Shanghai book city), all glorious 7 stories. . They have different departments for every subject, even a whole section on Hong-Xue or study in the Dreams of Red Mansion. There were even trolleys for pp who buy a whole lot of books at one go.
Everything was CHEAP! IIRC, there is a different pricing policy in China and the rest of the world. The same book is often priced 1/3 to 1/2 its counterpart in say Taiwan, HK or Singapore, I suppose it is to cut down rampant copies and in view of the HUGE market there.

I had to bite my lips and not succumb to buying everything in sight, not only becos they were so cheap, but the sheer variety! In the end i bought 9 books in less than 45min for only RMB142 (less than S$30). The only reason i didnt buy more was becos i ran out of time and couldnt carry more... ;)
ENTERTAINMENT
Xin Tian Di 新天地
Kinda like our boat quay but not anywhere near a quay... LOL. ok, it is a square where a huge expensive modern shopping complex stands at one end, and a couple of streets of al fresco dining + coffee + ice cream palors + disco + pub + wine bars + shopping + fine handicraft shops etc are located in 2-3 storey buildings. Only prob is there is absolutely no segregation of the various establishments. So you may be eating a scope of ice cream or having a hot chocolate al fresco, and be assaulted by loud music blaring from the pub next door.
While it was hailed as the entertainment area for the younger set, expats and tourists, some pp from rural china and old pp do come and walk around.
Disco
We were at a disco frequented by locals at HuaiHaiLu 怀海路, they play top 40 stuff, a DJ console, strobe lights, pole dancers and b-boys too. The music was very very loud. And only if you guarantee to spend a certain amount will you be allowed to take a table. We ordered 6 bottle beers + 6 bottle alcoholic cider for RM360.
The fave game there seems to be dice games. Strange.
Interestingly, it is the first i've seen a pole dancer using classical ballet moves (or were those chinese ethic dance moves?) and being so unsync to the techno music. shudders.

Irish Pub
We went to an Irish Pub which was walking distance from one of the Song Sister's mansion which was her dowry. The customers there were 98% angmohs, and the waiters insisted in speaking English with us tho the 4 of us (1 local, 1 Malaysian + 2 Sinaporean) were Chinese as can me, which resulted in the following order:
- We would like 4 kilkennys, 2 large and 2 regular, and 2 serving of fries
- Flies?
- Yes, fries.
- ............
- ............
- Oh! You mean FLENCH Flies.
- DUH!
They later vacated us from the table where we were seated saying that the area was reserved. We didnt want to move as it was facing the TV showing a live EPL match. They said the area was reserved and they made a mistake seating us there. We moved. 20min later, the same crew was sitting there having his supper...
They had a pool table which was crowded with a group of ang mohs who played terribly. When E went to challenge (ok, asked for a turn to play), they played their last 2 games agonisingly terribly slowly, not becos they wanted to delay, but they were bad, and then ALL BUT ONE left! And apparently he was the best undrunk player of the group. E had 2 good games with him, and they made friends, exchanging namecards :) i just love that man, he makes friends so easily :)

...................................................

Zhu Jia Chun 朱家脚
kinda like a little su-zhou with rivers for roads, but very very commercialised.

XiangYang Market 湘阳市场
- The great imitation market, to be closed down in June 2006. Where the starting price is often 200% if you are a foreigner, 300% if you are not chinese.

Peace Hotel 和平饭店
- THE peace hotel, there were 2 facing each other across the road, 1 being 100 years old, and the other 80 years.




Shanghai Financial District



Magnetic Train 垺磁 to airport
- RMB50, RMB40 if you have paper ticket. Top speed 485km/hr, over in 8 minutes.

Food
Labels: to Travel